Plastic Eggcrate Grillen voor luchtinlaat Louvre
Plastic Eggcrate Grille Introductie
Eggcrate Grille is een zeer economische oplossing voor vele verlichtings- en lichtplafondtoepassingen. Deze lamellen zijn gegoten in polystyreen. De witte panelen zijn doorschijnend en zorgen voor een gelijkmatige verlichting over het hele oppervlak. Open-celontwerp maakt het mogelijk het licht door te laten naar het werkgebied terwijl schittering wordt verminderd; Bovendien maakt deze lamel een vrijwel onbelemmerde luchtbeweging mogelijk, die de levensduur van de lamp en de ballast verlengt door efficiëntere warmteafvoer. De louvre is goedgekeurd door UL voor gebruik onder sprinklerinstallaties en plafondverlichtingstoepassingen.
Kunststof Eggcrate Grille voordelen
1. Hoge anticorrosie en anti-aging.
2. Lichtgewicht maar hoge geladen sterkte.
3. Lange levensduur en onderhoudsvrij.
4. Niet-geleiding of magnetisch.
5. Eenvoudige installatie en rijke kleuren.
6. Verschillende maten en kleuren beschikbaar.
Kunststof Eggcrate Grille Specificaties
Mesh size

Thickness

Panel size

(Customized)

Weight

15*15*12.7mm

2mm

1212*603mm

1.65kgs/pc
Kunststof Eggcrate Grille Kenmerken
1. Lichtgewicht, hoge sterkte - gemakkelijker te transporteren en te installeren met standaardgereedschap
2. Corrosiebestendig- zal niet rotten of roesten en absorbeert minimaal vocht
3. Chemisch bestendig-mild zuur-alkali-bestendig
4. Vochtbestendig - geen krimp of zwelling
5. Slagvast - glasvezelmat verdeelt de lading om schade aan het oppervlak te voorkomen
6. Veiligheid - leidt geen elektriciteit, en de antislipoppervlakten zijn beschikbaar
7. Langdurige levensduur - lagere levensduurkosten dan traditionele bouwmaterialen
8. Lage thermische geleidbaarheid - geleidt niet gemakkelijk warmte of kou
9. Niet-elektrische geleidbaarheid, met niet-magnetische eigenschappen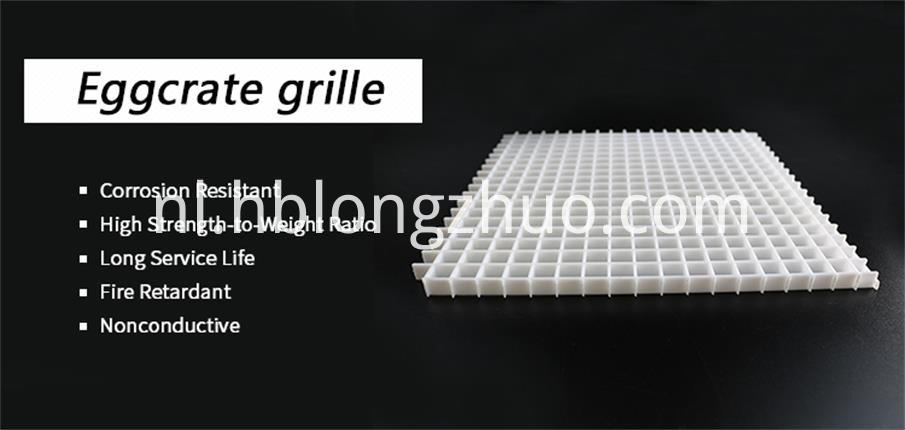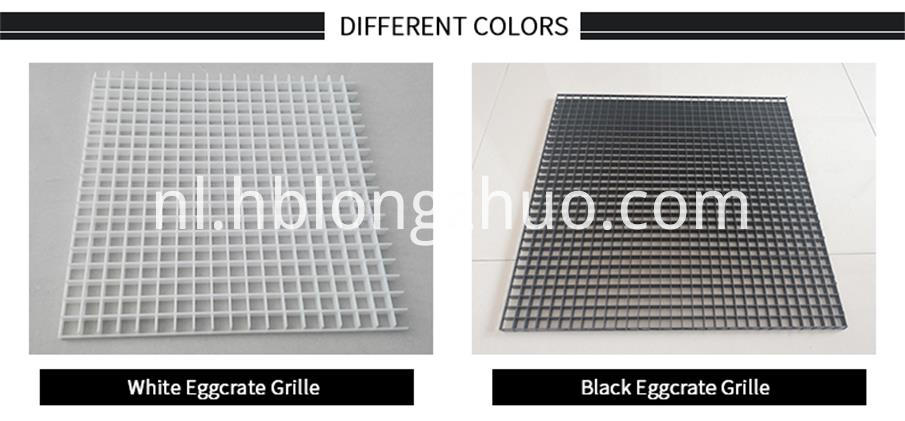 Kunststof Eierkorfrooster Toepassingen
Eierkistrooster kan op grote schaal worden toegepast in verlichting, plafondrooster, HVAC, liftpanelen, onder sprinklersystemen, aquariums, huisdierenkooien, POP-uitingen, enz.
Plastic Eierkrat Grille Verpakking
Eggcrate Grille Verpakking: 10 stks in een doos of als uw verzoek.

Gerelateerde producten:
Koeltorenonderdelen: koeltorenvulling, koeltoren sproeikop, koeltoren luchtinlaatlamel, koeltoren drifteliminator.
Waterbehandeling: kolkenzuiger, watertank, biokogelfiltermedia, fijne bellentiffuser.
Product Categorie : Egg Crate Grille